White-tailed Eagle Update
Reports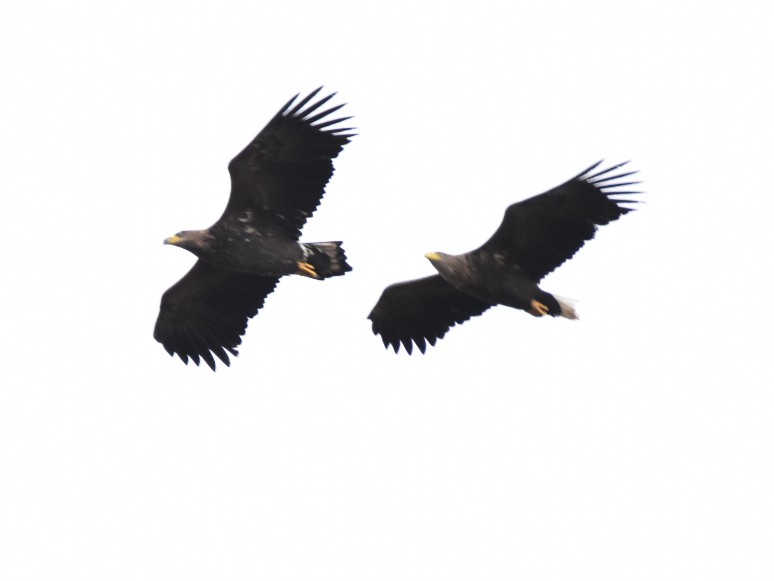 White-tailed Eagle were persecuted to extinction in the UK in the nineteenth century but have been part of a successful re-introduction programme based on releasing birds from Scandinavia.
Numbers of this species were released under license on Rhum between 1975 and 1985 and further releases were made in Wester Ross between 1993 and 1998. The first successful breeding was on Mull in 1985.
On 3 November 1992, after an absence of over one hundred years, the first White-tailed Eagle was seen at close range in the Clauchland Hills. This juvenile bird was later seen over Holy Isle and Lamlash Bay. Its appearance made the front page of the local paper the "Arran Banner" on Saturday 21 November 1992. The following is an extract from the original front page story.
The Eagle has Landed
from "Arran Banner" 21 November 1992
The White-tailed Eagle is even bigger than the Golden Eagle but, being persecuted last century, has ceased to be seen in Scotland until recently. And last week a White-tailed Eagle was seen off Clauchlands Point. It was seen flying around by Tony and Irmgard Church from Lochranza. Both bird lovers they thought it was a sea eagle but were not sure so drove down to Kilmory to tell birdman John Rhead who dropped what he was doing and came to look. An hour later it was still there and it was a sea eagle, a White-tailed Eagle.
The next White-tailed Eagle record on Arran was in 2004 on 23 February at Catacol. It was a "tagged" juvenile bird that had been tagged in Mull in 2003.
In the following years there were small numbers of records 2006 one, 2008 two, 2009 two, 2010 three, 2011 two, 2012 two, 2014 three, 2016 one and in 2017 there were two records and for the first time. one of the records was of two juvenile birds together. In 2019 there were four records.
In 2020 there have been over twenty reports. Two White-tailed Eagles were seen in Machrie Bay on
22
November. Later that day they were photographed north of Dougarie and for the rest of November and the whole of December there were records of these majestic birds from that stetch of coast. The last record was on 30 December. Whether or not this is a pair looking to establish a territory remains to be seen.
This is by far the longest continuous spell of While-tailed Eagle on Arran for over one hundred years.