Water Pipit: A First for Arran
Reports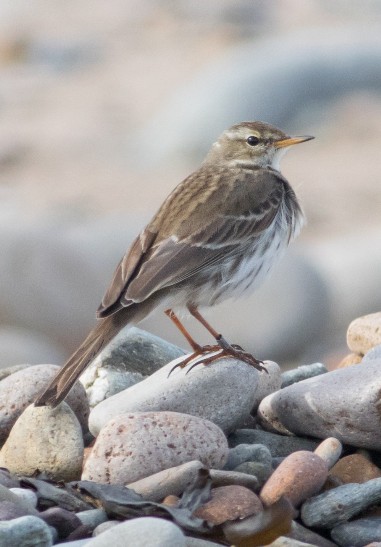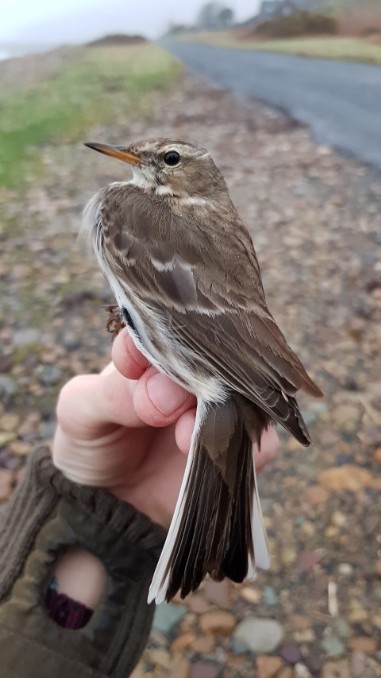 In the Arran Banner Bird Notes for February 2019 the birding highlight was the first ever record of Water Pipit on Arran. Water Pipit breeds in the mountains of Southern Europe and Southern Asia eastwards to China. It is a short-distance migrant; many birds move to lower altitudes or wet open lowlands in winter and a few have been turning up in Scotland. In recent years one to three records in winter has been the norm, but this year there has been over thirty, mainly on the coasts of Lothian and Ayrshire with eight this winter in Ayrshire. The first official record for Scotland was in 1968. At that time it was considered a sub-species in the Rock Pipit family but in 1987 it became a full species.
On Saturday 23 February around noon, a Water Pipit was seen on the shore at Machrie by two experienced birdwatchers from Pirnmill. Pipits are notoriously one of the most difficult groups to identify, and the various forms of Water and Rock Pipit are possibly the hardest by reputation. Water Pipit is a smart and relatively clearly marked bird in all plumages. It has grey-brown upperparts with a shadow of streaking on the mantle, a warm brown rump and prominently white supercilia (line above the eye), double wing-bars and white outer tail feathers. The underparts are whitish. To help confirm identification the bird was then legally trapped, ringed, photographed and released. The photographs taken together with the appropriate form were promptly submitted by the observers to the Clyde Bird Rarities Panel where there was no hesitation in accepting the record.
The bird remained faithful to a relatively small area, close to where it was first seen, for six weeks. Initially the wet seaweed tide-lines on the shore were favoured but wet areas on the adjacent golf course and fields were also used. For a time the fairway in front of the tearoom was a reliable area for watching the bird, offering good views without disturbance. At all times it vigourously defended its feeding patch against Rock Pipits, often flying quite a distance to chase off intruders.
The long-staying bird was last reported on Friday 5 April. Towards the end of its stay in Machrie the pink flush on the breast was beginning to show as the bird moulted into its breeding plumage. Having travelled north to spend the winter on the coast by Machrie Bay, the bird would have headed south perhaps to the mountains of the Pyrenees or the Alps where in its summer finery, the breast suffused a delicate shade of pink, and the head appearing almost blue, it would attempt to breed.
I wonder if it will return to Arran next winter. I know a few people who will be looking out for it.