Update on Whimbrel A2 April 2020
Bird Sightings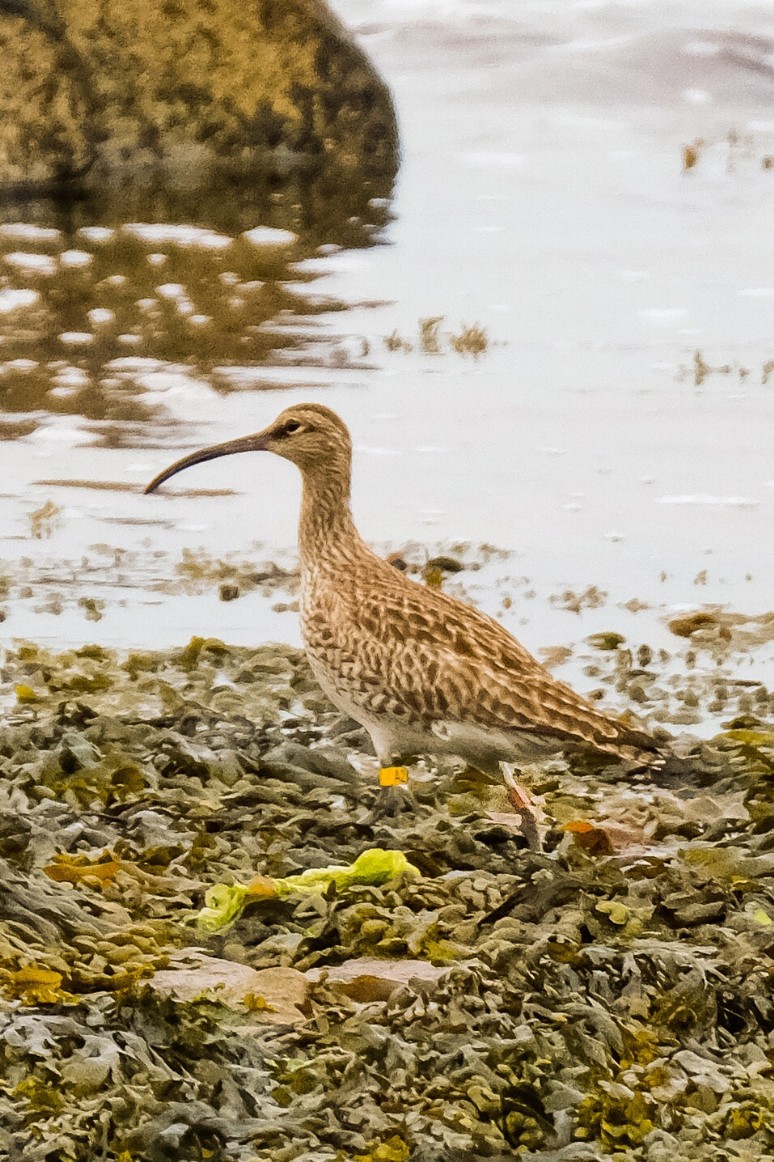 The photograph above by Joan Thomson is of a Whimbrel taken on the shore at Porta Buidhe in Kildonan on the 28 April 2019. From the little "flag ring" on its leg, this is not any Whimbrel, this is A2. The group of bird ringers on Arran had caught and ringed this bird in April 2017 with the intention of trying to learn more about the movements of Whimbrel.
Whimbrel are related to Curlew. Whimbrel does not breed on Arran. They breed in the north on subarctic tundra and taiga bog in places like Iceland, Norway and Russia with some breeding in Orkney and Shetland. They winter on African coasts rarely in Europe. It is during this twice year migration between African coasts and northern tundra that Whimbrel pass through Arran in late April/early May and again in September.
Having been ringed and released from a south Arran shore in April 2017, the bird continued on its journey. To date there have been no reports of A2 from any breeding area nor any wintering ground, but on 26 April 2018, one year after it had been ringed, it turned up on the shore at Porta Buidhe. Another year later almost to the day, it turned up yet again on the same shore on the 28 April 2019. In 2020 the bird turned up again on a Kildonan shore where it was again photographed by Joan Thomson on 22 April. The 2020 photograph is shown below
That's noe four years in a row. Birds are fascinating.
One obvious difference in A2 is the colour of the ring. When fitted it was bright red but three winters in the African sun have caused it to fade.
For more information on the excellent work of the bird ringing group on Arran, I recommend the "Bird Ringing on Arran Report" by Terry Southall in the annual "
Arran Bird Report
".