Satellite tagged Short-eared Owls
Bird Sightings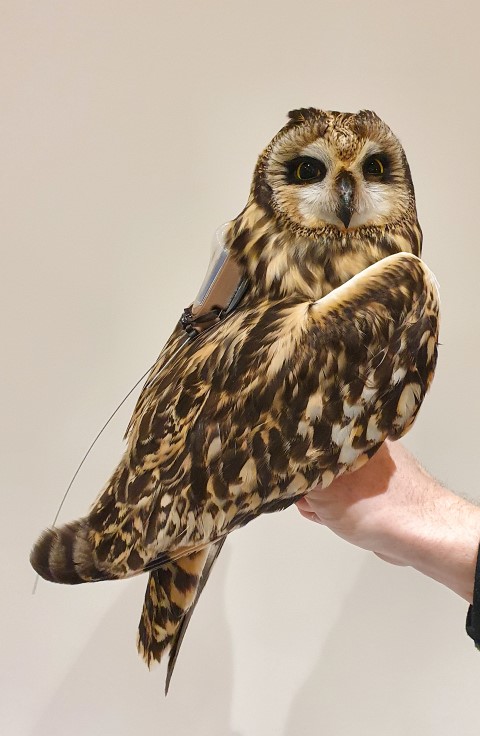 In the photograph above the Short-eared Owl has been fitted with a satellite tag. This was done on Arran as part of
the British Trust for Ornithology Short-eared Owl Tracking Project use this link for more information on the project. The data from these tagged birds
has already provided the BTO with some amazing results.
The image below shows the movement of one Short-eared Owl tagged on Arran in the summer of 2019. It
has been tracked to France but may have been killed by the side of a motorway!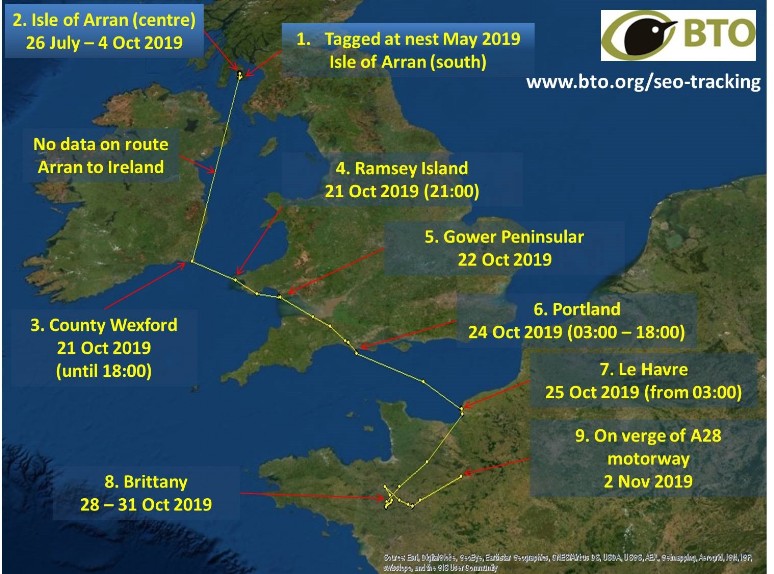 A second Short-eared Owl, also fitted with a satellite tag whilst breeding on Arran in the summer of 2019 , has been tracked to Morocco.
A breeding female, tagged at her nest site by local ringers on Arran on 11 June 2019, wintered near Oualidia in Morocco.
As can be seen on the image below the bird left Arran to visit Bute and Kintyre from 15 – 17 July, returning to Arran for 10 days and then moving to mainland Ayrshire on 27 July. She remained here (near Dalmellington) until the end of October.
She then moved to Devon, where she was present on 8 November, leaving the following evening to head south. With the help of a strong tail wind, she travelled 495 km into France in just six hours – that's an average of 82.5 km/h!
She then continued south, crossing the Pyrenees on 13 November and the Strait of Gibraltar on 24 November to reach Morocco.