October 2023
Bird Sightings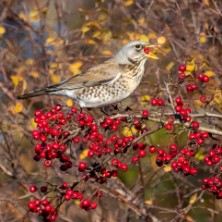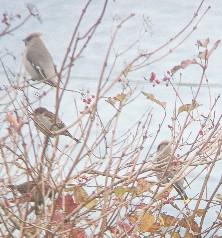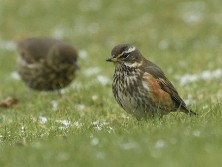 The weather in October was unsettled. October is arguably the busiest birding month, as summer breeders depart, migrants pass through, winter visitors arrive and there is always a strong chance of something unusual. This October did not disappoint.
A particular highlight was
a report of three Waxwing
on the morning of Tuesday 31 October in a garden in Newton, Lochranza. The observer managed to get this photograph through binoculars. The last Arran report of this irruptive winter visitor was one in Cordon in February 2020.
Other highlights included:
a Great Skua flying alongside the Caledonian Isles on 9
th
(This species was badly affected by avian influenza in 2022), a Nuthatch at the entrance to Cnoc na Dail on 10
th
(The last Arran report of this species was in Dippen in April 2021) and three further reports of Ring Ouzel. One of these reports was a bird recorded on a camera trap with a night vision option, a reminder that bird migration occurs night and day.
Winter visitors arriving included: one hundred Greylag Geese and twenty Pink-footed Geese in the Shiskine Valley on 8
th
, a male Goldeneye in Brodick Bay on 9
th
, thirteen Rook on Cleats shore also on 9
th
, twenty-four Whooper Swan flying over Lagg on 10
th
, eight Wigeon at Cosyden on 11
th
and a pale-bellied Brent Goose at Sandbraes from 15
th
to 22
nd
. There were widespread reports of Fieldfare and Redwing, often together. The largest group of Redwing was eight hundred at Lagg on 10
th
and the largest group of Fieldfare was two hundred at Cnoc na Dail on 24
th
. There were also twelve reports of Brambling often with the more familiar Chaffinch. The largest group was five in Lagg on 24
th
. In addition, wintering Blackcap were reported including a male at the Lakin on 25
th
.
Migration was in full flow in October as birds were moving out of colder northern Europe to milder climes.
These included: one hundred Ringed Plover at Drumadoon Point on 2
nd
, twenty-nine Skylark and thirty Linnet on Cleats shore on 9
th
, a Greenshank at the black rocks Whiting Bay on 11
th
, forty Teal in south Carlo on 15
th
, a Knot on Silver Sands on 21
st
, seventy Starling also on Silver Sands on 27
th
, thirty Turnstone in Catacol Bay on 29
th
and three Dunlin in Porta Leacach on 30
th
.
There were some "last sightings" of summer visitors also moving south including:
a Lesser Black-backed Gull at Sliddery on 14
th
, a Wheatear on Cleats Shore on 21
st
, and a Gannet off Pirnmill on 29
th
. In addition, the only House Martin report was two in Sliddery on 1
st
. The largest group of Swallow in October was fourteen in Sliddery on 7
th
and the last report was two by Bridgend Campsite on 30
th
.
Other interesting records, from a month with over one hundred species reported, included:
two Kingfisher in Lamlash on 6
th
, two Goosander north of Catacol on 10
th
, fourteen Long-tailed Tit at Porta Buidhe on 11
th
, forty Great Black-backed Gull at Dougarie on 15
th
, a Red Kite in Clauchan Glen on 20
th
, a Yellowhammer in Sliddery on 24
th
, a Great Northern Diver and a Little Egret in Pirnmill also on 24
th
, two Common Crossbill in Lagg on 25
th
, a Magpie by Lamlash Golf Course on 26
th
, two Shelduck at Thunderguy on 27
th
and a Dipper at Porta Buidhe on 22
nd
. Increasingly as winter approaches, Dipper can be seen at the mouth of rivers and burns.
Finally, my thanks to all the "volunteers" who took part in the Eider survey in late September. The total number of birds recorded round Arran was fifty-eight. There was excellent coverage of the Arran coastline. Last year the total was fifty-five. In 2020 it was seventy-five. In 2000, it was considerably more, at over six hundred.
The data on the Eider survey contributes to the ongoing research of Chris Waltho who has been monitoring Eider in the Clyde Estuary for almost thirty years. The population trend is down.
For the latest report from Chris, visit this website: