November 2022
Bird Sightings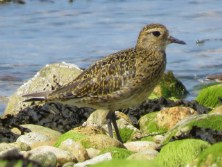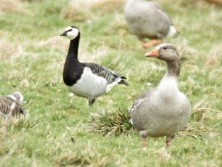 November had a very similar rainfall to October and the mean temperature was two degrees cooler. In comparison to last November, it was wetter and little milder. There was fifty percent more rain and the mean temperature was one degree higher.
Not surprisingly in November, winter visitors were to the fore. These included three Yellowhammer in Sliddery on 3
rd
, three Snow Bunting in Glenree on 7
th
, nine Twite at Drumadoon on 18
th
and a Brambling in Pirnmill on 20
th
. The large flocks of Redwing and Fieldfare reported in October seemed to have moved on.
In November, the largest group of Redwing was twenty-five in Margnaheglish on 8
th
and the largest group of Fieldfare was sixty in Glen Sannox on 15
th
.
Other records of wintering birds included: a juvenile Merlin at Drumadoon Point on 4
th
, eight Lapwing in Feorline on 11
th
, thirty Turnstone in Whiting Bay on 16
th
, one hundred and eighty-nine Golden Plover at Machriewaterfoot on 19
th
, a Snipe at Cordon on 23
rd
, three Purple Sandpiper at Kildonan on 28
th
and five Woodcock in Lamlash on 30
th
.
Reports of wintering wildfowl included: a flock of fifty Pink-footed Geese, thirty-five Greylag Geese and a Barnacle Goose in the Shiskine Valley on 3
rd
, forty-five Teal in Carlo on 11
th
, five Wigeon at Silver Sands on 30
th
and the largest group of Whooper Swan was twenty-nine over Shannochie on 29
th
. Two juvenile Whooper Swan on their own were reported in the Shiskine Valley between and 10
th
and 20
th
. Perhaps they had got detached from their family group while on migration from Iceland. Later in the month, adult Whooper Swans with two juveniles were reported in the area.
Gardens are safe refuges during the winter months with many people providing regular food and water for their feathered friends. These are a small selection from the many reports from gardens round the island in November: five Siskin in Pirnmill on 2
nd
, a Treecreeper in Cordon on 3
rd
, eight Long-tailed Tit also in Cordon on 9
th
, a male Blackcap in Whiting Bay on 10
th
, nine Blackbird in Pirnmill on 15
th
, two Goldcrest in Brodick on 29
th
, fifty Chaffinch in Pirnmill on 30
th
and eleven Robin in Lochranza also on 30
th
.
There were some November records of birds usually associated with warmer months of the year. The last Gannet record was two in Lamlash Bay
on 11
th
. In addition, there were two sightings of Osprey, one at the top of the String on 3
rd
and one at Whitefarland on 20
th
.
Finally, here is a further selection of highlights from what has been another exceptional month for bird-watching on Arran: three Moorhen on Mossend Pond on 5
th
, two Dipper at Machriewaterfoot on 9
th
, a White-tailed Eagle over Machrie Moor on 11
th
, five hundred Woodpigeon in Pirnmill on 13
th
,
a Kingfisher in Sannox on 15
th
, seven Great Northern Diver in Machrie Bay on 19
th
, one Common Crossbill at Cnoc na Dail on 21
st
, three Goosander at Cordon on 22
nd
, two Shelduck returning to Auchenhew Bay on 28
th
after their autumn moult, two Golden Eagle over the summit of the String on 30
th
, four Little Grebe in Lochranza also on 30
th
and widespread reports of a single Little Egret from Lochranza to Kildonan but mainly from around Lamlash Bay from 18
th
to 30
th
.
This winter look out for Waxwings.