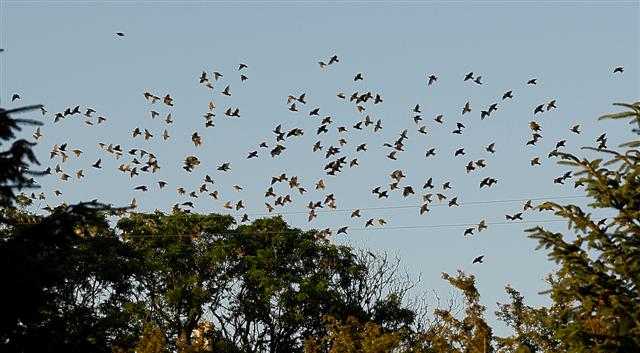 Group names for birds are strange - a parliament of owls, a siege of herons, a murder of crows, a ballet of swans. The list of these odd collective nouns seems endless: a doading of Shelduck, a wisp of Snipe, a parcel of Linnet, a plump of Moorhen. Apart from compilers of pub quizzes is anyone remotely interested? Who uses them in everyday conversation?

Having said that, as you may anticipate, I have an affection for one or two of them. If you have ever come across a group of red faced Goldfinch working their way across seed heads on a bed of thistle, calling to each other with their liquid song and flashing their black and yellow wings, then the word "charm" seems apt. A charm of Goldfinch. Spot on.

What brought this to mind was an email from a friend on the island. From the tone of his email I do not think that he was best pleased. All the Starlings on the island seemed to be gathering by his house each evening. "Easily over a thousand congregate each night….the trees are full of birds and the evening chatter is worse than the WRI….they move down into our garden at dusk….aren't birds wonderful? NIMBY"

There was no comfort in suggesting that such a gathering was to be enjoyed. Not only the noise but the spectacle, when they swirl in all directions in apparent perfect coordination, wheeling and shimmering, it is a display of power and mystery. A murmuration of Starlings is something special.

That group name "murmuration" for Starling is perfect.