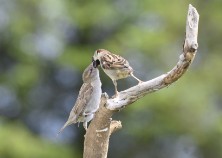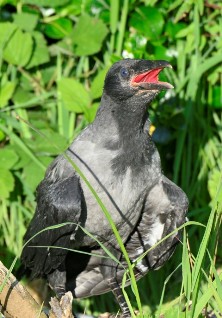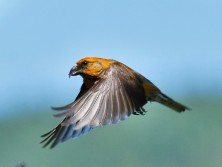 In comparison to April, May was warmer and drier. The mean temperature was three degrees higher and there was forty percent less rain. In comparison to last May, this May was drier. The wind was mainly from the north and there was a feeling that while spring was arriving, it was late. The month finished with ten dry days and became warmer.
Conditions were generally good for birds trying to get on with breeding, for example, familiar garden birds were flourishing.
Throughout the month the numbers of the usual summer visitors like Swallow, House Martin, Sand Martin, Willow Warbler, Whitethroat, Sedge Warbler and Cuckoo continued to build up.
Cuckoo seemed to be particularly widespread and noticeable this year with small groups being reported from some areas. The numbers of Tree Pipit, Spotted Flycatcher and Whinchat were only building up towards the end of the month.
In addition to the "firsts" reported in the April notes, here are some further "firsts" in May with the 2022 arrival dates in brackets for comparison: Swift, Machriewaterfoot on 1
st
(6 June), Wood Warbler, Glen Rosa 6
th
(no records in 2022), Tree Pipit,
Glen Rosa 7
th
(24
April), Redstart, Kiscadale 11
th
(7 June), Garden Warbler, North Sannox 12
th
(21
st
), Spotted Flycatcher ,Glenashdale 18
th
(17
th
) and Arctic Tern, Pladda 24
th
(1 June). To date there have been no reports this year of Common Tern, Corncrake, Lesser Whitethroat or Nightjar but there was a report of Quail, an occasional summer visitor in suitable southern farmland on 30 May.
Species who breed further north continued to pass through including: three Black-throated Diver in Whiting Bay on 2
nd
, thirty-three Whimbrel on Cleats Shore also on 2
nd
, five Common Scoter at Machriewaterfoot on 4
th
, eleven Turnstone at Blackwaterfoot also on 4
th
, ten Sandwich Tern at Kilpatrick Point also on 4
th
, six Great Northern Diver off Pirnmill on 6
th
, two Dotterel on Beinn Bhreac on 7
th
, one pale-bellied Brent Goose at Blackwaterfoot on 16
th
, seven Dunlin at Porta Buidhe on 28
th
and two Merlin on Coire a' Bhradain also on 28th. In addition, there is a single Whooper Swan, not heading north, but over-summering again on Arran, mainly in the Lamlash Bay area. The bird was first notes in 2018.
In May, breeding was well underway for many species.
Encouraging signs included reports of Golden Eagle, Golden Plover, Hen Harrier, Red-throated Diver, Short-eared Owl and Long-eared Owl all holding breeding territories.
Activity was reported from all the monitored heronries on the island and four areas held small numbers of breeding Lapwing. A number of coastal cliffs held single figure numbers of nesting Fulmar which seem to be in serious decline on Arran. By contrast the Black Guillemot colonies seem to be thriving. The cordoned off area at Porta Buidhe seems to be proving to be a safer breeding area for shore birds. Other breeding records included:
at least three Skylark singing on Machrie Moor on 7
th
, Mallard with eight young at Cordon on 11
th
, Woodcock roding over the Lakin on 14
th
, thirty-five Herring Gull nests on Holy Isle on 19
th
, Goosander with young at Machriewaterfoot on 22
nd
, Mute Swan with six young at Corrie on 28
th
and Long-tailed Tit with ten young in Lochranza also on 28
th
.
In May over one hundred and ten species were recorded. There were reports of Little Egret between 2
nd
and 18
th
from the west and north coasts as well as the more regular east coast, including three at Cordon on 8
th
. Here are some other highlights: three Red-throated Diver in Whiting Bay on 1
st
, four Common Sandpiper at Port na Lochan on 2
nd
, thirteen Gannet off Glenashdalewaterfoot
on 16
th
, two Puffin in Brodick Bay on 18
th
and forty-three Common Crossbill in High Kildonan on 28
th
. Finally Rock, a winter visitor on Arran and Magpie, a vagrant to Arran, both turned up in May, one Rook on Cleats Shore on 2
nd
and one Magpie in Whiting Bay on 7
th
and in Lamlash on 23th and 26
th
.
With the long daylight hours, it is a great time of year to be birding.
Most birds are getting on with the business of breeding.
Please take a moment to report any signs of breeding birds to me, but
please also remember that under the Nature Conservation (
Scotland
) Act 2004 it is an offence to intentionally or recklessly damage or destroy the nest of any wild bird while it is being built or used. Do not hesitate to report any criminal activity to the local police.
Particularly take care on our shores and please keep dogs on their leads at this time of year.