Marsh Award for Local Ornithology 2013
Reports
The Marsh Local Ornithology Award was presented to Dr Jim Cassels of Arran Natural History Society at a ceremony in London on Wednesday 30 October 2013 by Professor Ian Newton, Chaiman of the British Trust for Ornithology, and Jo Winyard and Professor Bill Sutherland, on behalf of The Marsh Christian Trust.

In nominating the Arran Natural History Society for the Marsh Award for Local Ornithology, Dawn Balmer, UK Coordinator for Bird Atlas 2007-11, reflected upon the commitment of the Arran Natural History Society and Dr Jim Cassels' personal drive.

During the early stages of the national Bird Atlas project, Jim Cassels persuaded the Arran Natural History Society to attempt a more-detailed local breeding and wintering atlas of the birds of Arran, despite having only a handful of keen bird surveyors available to support the work. To complete the project, Jim and the Arran Natural History Society engaged the whole community on Arran, encouraging people to submit records for the atlas. This was done by writing regular articles for the local weekly paper the Arran Banner, giving talks and building special atlas pages on the Arran birding website. Visitors to the Island were persuaded to contribute records. Bird walks were organised to give local people valuable fieldwork experience and to build their confidence levels.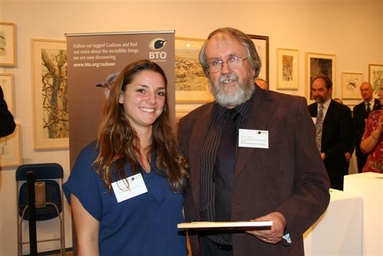 Nearly 700 people submitted over thirty-six thousand records on one hundred and seventy-seven species of bird for the Arran atlas. Complete coverage of the 139 tetrads (2-km squares) on Arran over five winters and five breeding seasons was achieved. These contributed to the national Bird Atlas project, as well as being the data for the local atlas.

Jim Cassels, bird recorder of the Arran Natural History Society, has been the Atlas Regional Organiser for Bird Atlas 2007–11, coordinating fieldwork and undertaking validation of records for the Isle of Arran. The project is now at the writing and map production phase, again led by Jim. With the financial support from the Scottish Ornithologists' Club and the Arran Trust, the intention is to publish the results in 2014 with the title "Arran Bird Atlas 2007-2012: Mapping the breeding and wintering birds of Arran". This Arran local atlas will advance the knowledge of the status of breeding and wintering birds on Arran and will provide an important baseline against which to measure change in the future.

Dr Jim Cassels said: "I was delighted to accept the Marsh Award for Local Ornithology on behalf of the Arran Natural History Society. It was a most unexpected yet welcome accolade, a fitting tribute to all who have contributed to this work."

BTO Director, Dr Andy Clements said:We have been delighted to work with local birdwatching groups during the Bird Atlas 2007-11 project. achievements of the Arran Natural History Society, and Jim Cassels in particular, should not be underestimated. is tough terrain in which to look for birds and we are inspired by the coverage that has been achieved."

The Marsh Local Ornithology Award is made to a bird club or group that publishes a book, completes a study or conducts any other exceptional activity that advances knowledge about birds