March 2023
Bird Sightings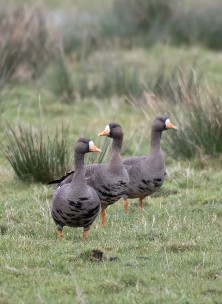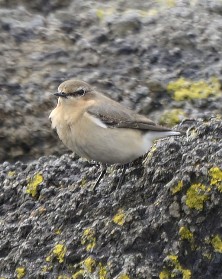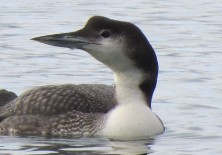 Spring is an exciting time of year, awaiting the arrival of our summer visitors and seeing the last of our winter visitors leaving
.
The timing of the northerly spring migration is dependent on the weather, not just locally, but throughout the whole length of the migration route. On Arran, March was the wettest month of the year so far with almost as much rain as January and February combined. It also had the lowest temperature of the year so far at negative five degrees Celsius. The cold dry spell that had started at the end of February continued into the first eleven days of March. This was followed by a prolonged wet spell.
A few pioneer summer migrants did arrive, but all were later than last year. On the 21
st
the first Wheatear was reported at Drumadoon Point. Last year the first record was 15
th
. On 23
rd
the first Chiffchaff was reported at North Kiscadale. Last year the first record was 18
th
. On 28
th
the first Sand Martin was reported over Mossend Pond. Last year the first record was 24
th
. These were all the summer visitor species reported in March.
April should see improving weather and the arrival of other migrants like
Willow Warbler, Sedge Warbler, White Wagtail
, Sandwich Tern, Manx Shearwater, Swallow, House Martin,
Common Sandpiper and Cuckoo – all signs of the approaching summer.
Please keep me posted.
In March, our winter visitors were still to the fore including: two Rook at Lagg Distillery on 3
rd
, thirty-four Fieldfare in Sliddery also on 3
rd
, five White-fronted Geese in the Shiskine Valley on 13
th
, thirty Wigeon at Machriewaterfoot on 21
st
, twelve Redwing in Glenkiln also on 21
st
, a female Blackcap in Sliddery on 26
th
and around three hundred Greylag Geese and around two hundred Pink-footed Geese in the Shiskine Valley on 27
th
.
In March there were many signs of migration. In the cold, calm spell at the start of the month towards dusk roosting groups of Great Northern Diver were counted. There were forty-one in Machrie Bay on 2
nd
and one hundred and six in Blackwaterfoot Bay on 3
rd
.
Other signs included forty-five Curlew at Port na Feannaiche on 3
rd
, thirty-five Skylark at Sliddery on 19
th
, three hundred Starling at Kilpatrick on 20
th
, sixteen Turnstones in Catacol Bay on 22
nd
, a Merlin in Sliddery also on 22
nd
, a Dunlin at Drumadoon Point on 25
th
, thirty Lesser Black-backed Gull on Pladda also on 25
th
and thirty-one Whooper Swan flying over Porta Buidhe on 26
th
. Gannet sightings began to slowly increase during the month with twenty off Pirnmill on 21
st
being the largest group reported. In addition, there was an increase in numbers of Goldfinch and Siskin at garden feeders, from several areas as these species began to move north.
In a month when around one hundred species were reported, here is a small selection of other interesting March records: three Red Grouse on Maol Donn on 3
rd
, eleven Crossbill in Corriecravie on 4
th
, an Osprey over Kilbride Hill on 11
th
, a Dipper at Slidderywaterfoot on 13
th
, three Long-tailed Tit and a Treecreeper by Stronach Wood on 23
rd
, four Fulmer on Drumadoon Cliff and a Red Kite in North Sannox on 26
th
. A Magpie did an island tour. Reports included Newton on 3
rd
, Strathwillan on 5
th
and Blackwaterfoot on 9
th
. In addition, there were two reports of White-tailed Eagle, a sub-adult in Sliddery on 3
rd
and one off Rubha Salach on 31
st
. The Sliddery bird was so close to the observer that the satellite tag on the back could be seen.
The bird had been fitted with the tracker as a fledged youngster in Deeside in September 2022. For more information click the link.
Again, Little Egret seems to have over-wintered on Arran. The last record received was on 27 February in Cordon. No March records were received. It seems to have left. Last winter it was first reported on 29 October 2021 in Cordon and the last report received was 17 March 2022 by the Fisherman's Walk.
Spring is a great time to be birding, as most birds are getting on with the business of breeding.
The business of breeding involves attracting a mate by song, courtship display and ritual, defining a territory, nest building, and generally establishing relationships.
In March the signs were there including: ninety Shag at Drumadoon Point many displaying their crest on 3
rd
, two Great Spotted Woodpecker drumming by Corrie Golf Course on 5
th
, three Song Thrush singing in Brodick Country Park on 23
rd
, twenty Black Guillemot displaying off Pladda on 25
th
and numerous reports of sky dancing Hen Harriers display flying over Arran's moors
.
I am interested in all records of arriving summer migrants and any signs of breeding birds.
Please remember that under the Nature Conservation (Scotland) Act 2004 it is an offence to intentionally or recklessly damage or destroy the nest of any wild bird while it is being built or used.
Take particular care on our shores and beaches and please keep your dogs on a lead at this time. They are a danger to all our ground nesting birds.