March 2021
Bird Sightings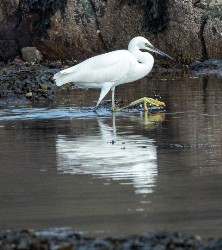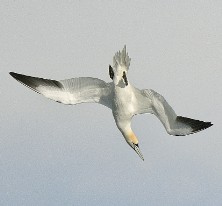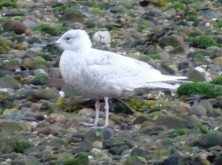 Spring is an exciting time of year, awaiting the arrival of our summer visitors and seeing the last of our winter visitors leaving
.
The timing of the northerly spring migration is dependent on the weather, not just locally, but throughout the whole length of the migration route. On Arran, March was warmer and dryer than February. March mean temperature was two degrees higher and the rainfall in March was half that of February's. Overall, this March was similar to last March with some settled spells. It was during these more settled spells that a few pioneer summer migrants did arrive. On the 17
th
the first Chiffchaff were reported singing, one in Auchenhew Bay and one on Holy Isle on. By the end of the month Chiffchaff were widespread. Also, on 17
th
the first
White Wagtail was with Pied Wagtail on Silver Sands. The first Wheatear report was two from Shannochie on 25
th
and on 31
st
thirty Sand Martin were reported from Catacol and three from Clauchlands. These were all the migrant species reported in March.
April should see improving weather and the arrival of other migrants like
Willow Warbler
, Sandwich Tern, Manx Shearwater, Swallow, House Martin,
Common Sandpiper and Cuckoo – all signs of the approaching summer.
Please keep me posted.
In March, our winter visitors were still to the fore including: nine Yellowhammer in Sliddery on
6
th
, sixteen Wigeon at Cosyden on 7
th
, a male Goldeneye on Mossend Pond also on 7
th
, one hundred Pink-footed Geese on Clachaig Farm on 18
th
, three Rook at Sliddery also on 18
th
, twenty Teal in South Carlo on 19
th
, three hundred and fifty Greylag Geese in the Shiskine Valley on 19
th
, seventeen Fieldfare in Strathwillan on 22
nd
, ten Redwing in Sliddery also on 22
nd
, five White-fronted Geese in Shiskine Valley on 24
th
and a female Merlin in Cordon on 29
th
. Also, on 29
th
there was the first report this winter of an Arctic breeding white winged gull, when a first winter Iceland Gull was photographed at the mouth of the Rosa Burn.
In March there were many signs of migration. Flocks of up to one hundred Whooper Swan were reported flying north over the island on
21
st
and 22
nd
.
Other signs included a flock of six hundred Starling at Sliddery on 6
th
, seven Great Northern Diver off Pladda on 7
th
, nine Black-throated Diver in Whiting Bay on 8
th
, twenty Turnstone in Lamlash Bay on 15
th
, forty-two Golden Plover in Catacol Bay on 13
th
and a Bar-tailed Godwit in Auchenhew Bay on 21
st
. Gannet sightings began to slowly increase during the month with six off Pirnmill on 28
th
the largest group reported. In addition, there was an increase in numbers of Goldfinch and Siskin at garden feeders, from several areas as these species began to move north.
In a month when over one hundred species were reported, here is a small selection of other interesting March records: two Goosander in Whiting Bay on
1
st
,
four Little Grebe in Loch Ranza on 13
th
, a Treecreeper on Holy Isle on 19
th
, two Dipper in Strathwillan on 25
th
and six Common Crossbill in High Kildonan on 26
th
.
Throughout March, reports of the long staying colonising species Little Egret, Nuthatch and White-tailed Eagle continued. Little Egret was first reported on 20 October 2020, the Nuthatch was first reported on 1 October 2020 and the pair of White-tailed Eagle was first reported on 22 November 2020.
In February reports of the Little Egret were mainly from Brodick Bay and Lamlash Bay, the Nuthatch reports were all from Pirnmill and the pair of White-tailed Eagles mainly from the west coast of the island.
Spring is a great time to be birding, as most birds are getting on with the business of breeding.
The business of breeding involves attracting a mate by song, courtship display and ritual, defining a territory, nest building, and generally establishing relationships.
In March the signs were there: a Grey Heron carrying nest material in Lagg on
1
st
, Great Spotted Woodpecker drumming in Merkland Wood on 13
th
, fifty Eider courting off Cosyden on 19
th
, eight Black Guillemot in breeding plumage on Pladda on 24
th
, Blackbird carrying food in Kildonan on 29
th
and many species singing including a Blackcap in Auchenhew Bay on 31
st
.
I am interested in all records of arriving summer migrants and any signs of breeding birds.