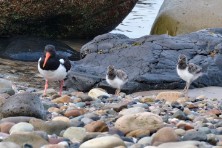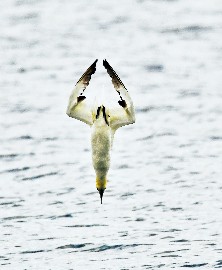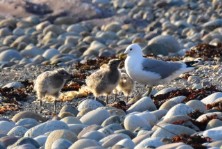 In comparison to last June, this June was warmer. The mean temperature was two degrees higher than last June. May had finished with ten dry days. In June the dry spell continued for another sixteen days giving a prolonged, warm, settled spell. Conditions were generally good for birds trying to get on with breeding with warblers, pipits, chats and hirundines all doing well.
Some observers reported gardens full of young birds. There were many reports of fledged birds in gardens including unfamiliar looking young birds, like Goldfinch without the red face of the adult birds, and Robin with spots and no red breast. Among the familiar garden birds Blackbird, Song Thrush, Chaffinch, Blue Tit, Great Tit and Dunnock seemed to be doing well. Most prolific of all seemed to be House Sparrow, with forty in Shannochie on 30
th
being one of the larger numbers. Also, there were many reports of numbers of Siskin and Goldfinch with young around, including twenty Goldfinch in Kildonan on 5
th
and twenty Siskin in Cordon on 29
th
. Again, it was encouraging to get reports of young Bullfinch, young Greenfinch and young Great Spotted Woodpecker from widespread locations. Twenty Long-tailed Tit including young, in a garden in Pirnmill on 11
th
was a particular garden highlight.
Away from gardens there were many signs of breeding including, a pair of Mute Swan with seven young at Corrie on 3
rd
, over one hundred occupied nests of Sand Martin in Glen Catacol on 7
th
, a family of Linnet at Kilpatrick Point also on 7
th
, a creche with three female Eider and fifteen young at Ports Buidhe on 8
th
, a family of Great Spotted Woodpecker in Merkland wood on 10
th
, a family of Treecreeper in Stronach Wood on 15
th
, a female Red-breasted Merganser with nine young in Loch Ranza on 17
th
, a family of Common Sandpiper in Sannox on 26
th
, a flock of thirty Starling including young in Strathwillan also on 26
th
, breeding activity of Black Guillemot around the King's Cave on 29
th
and a reeling Grasshopper Warbler by Kilmory Church on 30
th
. Cuckoo, whose decreasing numbers are a cause for concern nationally, seems to be thriving on Arran.
The breeding success of some raptors is linked to the vole cycle. Bumper years of voles tend to be followed by a crash followed by a gradual build up followed by a bumper year in a roughly four-year cycle. 2021 was a crash year with few voles around. Last year and this year the vole population is on the increase and those licensed to monitor Barn Owl and Short-eared Owl territories report a better breeding season than last year.
In June a number of scarce summer visitors were reported: a Puffin in Brodick Bay on 2
nd
, an Osprey in High Kildonan on 3
rd
, two Swift in Sliddery on 11
th
, a Quail also in Sliddery on 18
th
and a Ring Ouzel in Gleann Easan Biorach on 29
th
. In addition, there was a report of Storm Petrel on 17
th
, the first report in ten years. This will feature in a future "Banner" bird note.
Other highlights in a month with over one hundred species reported, included twenty-five Gannet fishing in Brodick Bay on 2
nd
, the summering Whooper Swan in Corrie on 3
rd
, four Dunlin on Silver Sands also on 3
rd
, three Common Crossbill in Glenkiln also on 3
rd
, thirty-three Barnacle Geese flying over Pirnmill on 6
th
, a White-tailed Eagle off Dougarie on 14
th
and a Magpie in Porta Leacach on 22
nd
. Interestingly there was a report six weeks previously of this vagrant species in the same location.
There were no June reports of Kingfisher and none of Little Egret. It is anticipated that later in the summer both species will be reported dispersing after breeding elsewhere. Also in July, look out for early signs of breeding being over for other birds this year. These could include the return of some Arctic breeding species to our shores, as they travel south. Already in June there were reports of four Sanderling in Blackwaterfoot on 24
th
and four Turnstone also in Blackwaterfoot on 27
th
.
Finally remember July is the time when many birds, having raised their young, go about the process of renewing their feathers by moulting them.
As birds are vulnerable when they are shedding flight feathers, they literally make themselves scarce.
On any walk you may see fewer birds, but they are still around.