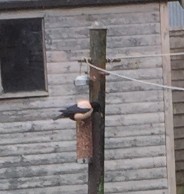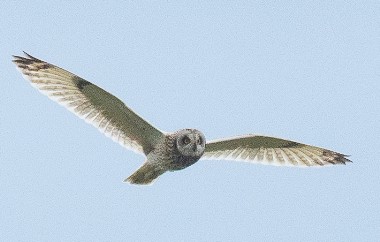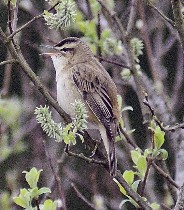 In comparison to June, July had a lower mean temperature and had over sixty percent more rain. In comparison to July last year, July this year had a mean temperature that was 1.5 degrees lower and this July there were twenty-six days in which it rained compared to twenty last July.
The cooler wetter July had an impact on breeding success of some of our visiting summer birds, particularly those that relied on airborne insects to feed young. Looking at the proportion of adult to young birds from information gathered by licensed bird ringers, Willow Warbler had a poor breeding season while the similar Chiffchaff which had bred earlier had a good breeding season. In addition, Whitethroat had a poor season whereas Sedge Warbler and Blackcap, relying less on flying insects, had a good season. Similarly, the early breeding, single brooding Sand Martin had a good season, but the jury is still out on the double brooding House Martin and Swallow. The weather in August may well determine their overall success. As reported in the June notes, garden birds seemed generally to thrive and seed eating birds like Lesser Redpoll, Siskin and Goldfinch all had successful breeding seasons.
Other signs of a successful breeding season included: one hundred and ten Shag and fourteen Arctic Tern at their colonies on Pladda on 2nd, young Great Spotted Woodpecker at Machrie on 3rd, fifty Black Guillemot between Imachar and Whitefarland on 4th, a pair of Mute Swan with five young at Port na Lochan on 5th, a creche of ten Eider off Levencorrach on 6th, a family group of seven Greenfinch at Kilpatrick on 7th, three young Kestrel on Maol Donn on 11th, four young Spotted Flycatcher in Glenkiln on 18th, five young Stonechat on The Ross also on 18th, two adult Common Guillemot each with a young bird off Pirnmill on 23rd and three large young Shelduck at Port na Feannaiche on 25th. In addition, healthy vole populations in some areas sustained good breeding numbers of Barn Owl, Hen Harrier and Short-eared Owl.
On the downside, with the easing of some lockdown restrictions, there was increased human activity on shores, with many ignoring notices of breeding birds and allowing their dogs off leads to cause disturbance to breeding shore birds In addition, there was some concern expressed that increased human activity on the hills near lochans was adversely affecting breeding Red-throated Divers and diminishing records of breeding Curlew and Fulmar is a continuing cause for concern.
July marks the end of the breeding season for some birds. It can be an interesting time looking for northerly breeding species heading south from their breeding grounds, many still in their breeding plumage. Reports included; four Turnstone on Pladda on 2nd, two Sandwich Tern at Porta Buidhe on 13th, thirty-nine Golden Plover at Machriewaterfoot on 21st, four Dunlin on Blackwaterfoot shore on 22nd, two Whimbrel on Sliddery Shore on 24th and a Greenshank on Cleats Shore on 29th.
In addition, after breeding many species begin to flock together. Reports included; one hundred and fifty Woodpigeon at Mossend Pond on 7th, forty-two Red-breasted Merganser in Machrie Bay on 8th, forty-seven Raven in Clachaig on 16th, seventy House Sparrow at Sannox on 23rd, four hundred Linnet in Sliddery on 24th and forty-one Curlew and sixty Pied Wagtail at Port na Feannaiche on 26th.
Over a hundred species were reported in July. The appearance of a Rose-coloured Starling in a Shiskine garden on 20th was a particular highlight. This is the fourth year in a row that this rare vagrant has turned up in Arran in July. A few days later, on 24th, a Wood Sandpiper was seen and heard flying over Bennecarrigan and Sliddery. This is only the second record for Arran of this rare passage migrant. Other highlights included; a Dipper in Rodden on 7th, a Swift over Sliddery on 15th, seven Red Grouse on Mullach Buidhe on 17th, two Twite on Sliddery Shore on 24th, two Water Rail in Corriecravie on 25th and off Whitefarland on 29th an estimated sixty Manx Shearwater joined one hundred Gannet in a feeding frenzy.
Finally, in the June Bird Notes I wrote "Cuckoos, whose decreasing numbers are a cause for concern nationally, seem to be thriving on Arran. Throughout May and June there have been many widespread reports. People need no prompting to report the first Cuckoo. How about reporting when you hear or see the last Cuckoo this year?" My thanks go to those of you who have responded. By now the adults will have left the UK leaving the young to be brought up by their foster parents. The young have a distinctive white spot on the nape of the neck. The latest date that I have had so far for young Cuckoo is 17th when one was seen with a pipit on the shore close to Lochranza pier.