February 2022
Bird Sightings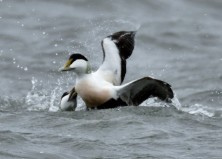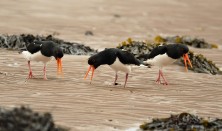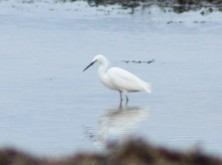 In comparison to last February, this February was milder, the mean temperature was two degrees higher, and it was wetter with 15% more rain...but the story of the month was the wind. The last weekend in January there were two named storms. February continued in the same vein with three more named storms within a procession of unsettled weather.
While at times the weather was not conducive to being out of doors, nevertheless almost one hundred species were reported.
Highlights included Little Egret. Continuing from December and January records, in February there were forty records. Again, all of a single bird. All but four of the records were from locations round Lamlash Bay. The others were from Merkland to the north and Sandbraes to the south. It looks as if there is one Little Egret getting familiar with Lamlash Bay. Another highlight was the reports of Brambling. Brambling is an irruptive winter visitor not seen every year. Again, reports in December continued into January with widespread records throughout January but in February there were only four records. The last one was four in Sliddery on 25
th
.
Other wintering visitors included: a second winter Glaucous Gull flying up the west coast from Machrie through Whitefarland towards Lochranza on 6
th
, a female Merlin in Strathwillan on 12
th
, a Snow Bunting on Caisteal Abhail on 15
th
, forty Redwing in Cloined on 23
rd
, thirty-two Rook and fourteen Yellowhammer in Sliddery on 25
th
and one hundred and thirty Fieldfare in the Shiskine Valley on 27
th
. In addition, there were several reports of Blackcap including a male "hoodlum" dominating feeders in a garden in Lamlash.
Wintering wildfowl continued to be present including twenty-one Canada Geese in Clachaig on 9
th
, four Common Scoter off Pirnmill on 10
th
, six Goldeneye on Mossend Pond on 12
th
, two hundred and fifty Greylag Geese in the Shiskine Valley on 14
th
, one hundred and twenty Pink-footed Geese in Clachaig also on 14
th
, thirty-two Wigeon and twenty-six Teal at Kilpatrick Point on 19
th
, and twelve White-fronted Geese in Feorline on 27
th
. This is a large number for Arran. The numbers in the last three years have been around half of this figure. In addition, there were reports throughout the month of a single Whooper Swan in Lamlash Bay.
Other wintering flocks included: eleven Blackbird in Pirnmill on 6
th
, two hundred and fifty Starling in Cloined on 7
th
, two hundred and eighty-seven Common Gull in Shannochie on 13
th
, twenty-three Greenfinch in Kiscadale also on 13
th
, two hundred and fifty Herring Gull on Pladda on 14
th
, twenty-one Turnstone on Silver Sands on 17
th
, forty-three Curlew by Port na Lochan on 19
th
, twenty-four Pied Wagtail in Blackwaterfoot also on 19
th
, thirty-four Lapwing on Cleats Shore on 21
st
, and sixteen Woodcock in Bennan also on 21
st
and thirty Meadow Pipit in Feorline on 27
th
.
Other interesting sightings included: six Little Grebe in Loch Ranza on 17
th
, a Moorhen in Port na Lochan on 19
th
, a Dipper at Machriewaterfoot on 27
th
and a Kingfisher in Machrie on 28
th
. In a previous edition of the "Banner" there was a report of a White-tailed Eagle from the Isle of Wight passing over Arran on 4
th
. As well as this, there were two other White-tailed Eagle reports in February an immature off Pirnmill on 2
nd
and an adult over Corriecravie on 25
th
.
In February there were seven reports of returning Gannet, the largest group being ten off Newton on 10
th
. There were two records of returning Lesser Black-backed Gull. The first of these
was one at Kilpatrick Point on 19
th
. Other signs of approaching spring included: Grey Heron nest building in Whitehouse Wood on 4
th
,
twenty-one Red-breasted Merganser displaying off Thunderguy on 13
th
, four Black Guillemot displaying off Imachar on 14
th
, aggression between male Eiders off Cordon on 18
th
, a pair of Stonechat holding territory in Clauchlands on 21
st
, three Oystercatchers excitedly piping in Lamlash on 27
th
, a Song Thrush singing in Blackwaterfoot on 28
th
and numerous reports of garden birds checking out nest boxes.
By the end of the month there were signs
that spring was on its way.
Siskin reports in February were increasing and are expected to build up in March as the birds move north. March could also see the arrival of some of our summer visitors like Wheatear, Chiffchaff, Willow Warbler, Sand Martin, even Swallow and House Martin, but their arrival will be dependent on the weather.
Keep an eye out for these migrants and let me know when you first see them.