August 2023
Bird Sightings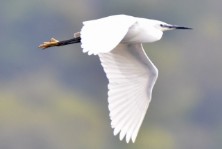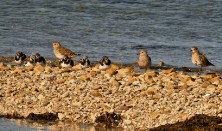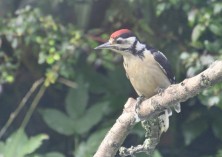 In comparison to last August, this August was much wetter. While the mean temperatures were similar, the rainfall this August was two and half times larger than the rainfall of last August. July and August were two rather unsettled summer months.
Having said that, summer visitors were still to the fore including a family group of Common Sandpiper at Carlo on 1
st
, a family of Spotted Flycatcher at Clauchlands on 2
nd
, a family of Whinchat in Glen Rosa on 7
th
, thirty-five Willow Warbler and eighteen Tree Pipit in Corriecravie on 9
th
, nine Lesser Black-backed Gull in Lamlash on 16
th
and a Swift over Braehead Farm on 22
nd
.
The largest group of each hirundine reported was seventy House Martin at Dun Fionn on 13
th
, thirty-two Swallow at High Whitefarland on 14
th
and thirty Sand Martin in Glen Catacol on 17th. Please try to give me your last record for Swallow and House Martin this year. Last year there were October records for both species. To date I have received no August records of Cuckoo.
Some other signs of successful breeding this month included: a female Red-breasted Merganser with four large young at Pirnmill on 1
st
, young Little Grebe in Mossend Pond on 22
nd
, a pair of Mute Swan with six large young in Machrie Bay on 24, four fledged Grey Heron in Lagg 26
th
, and several reports of young Great Spotted Woodpecker visiting gardens including Shannochie on 30
th
. As well as this, there were widespread reports of young familiar garden birds visiting feeders. This breeding success of "prey" species was reflected in over thirty reports of Sparrowhawk, many of them young birds hunting in gardens in Arran.
In August, breeding is coming to an end, birds begin to disperse, and a number of species begin to flock together, some in preparation for migration. These included: twenty Redshank at Sandbraes on 15
th
, sixty Siskin in Lochranza on 16
th
, two hundred Kittiwake at Fisherman's Walk on 24
th
, fifty-three Golden Plover at Machriewaterfoot on 30
th
, thirty-two Curlew at Cosyden also on 30
th
and one hundred Meadow Pipit, one hundred and fifty Starling and two hundred Linnet all at Sliddery on 31
st
.
All around the island, but particularly on the coast, there were signs of birds on migration, including; an Arctic Tern and five Wheatear at Drumadoon Point on 8
th
, on Osprey over Lenimore on 8
th
, a Greenshank and two Sandwich Tern at Sandbraes on 15
th
, two Knot in Cordon on 16
th
, two Sanderling and twelve Turnstone at Drumadoon Point on 20
th
, twelve Dunlin in Blackwaterfoot on 22
nd
, two Bar-tailed Godwit on Cleats Shore on 28
th
, and ten White Wagtail in Sliddery Shore on 31
st
. Last August there was twenty reports of dispersing Kingfisher. This year there were none. However Little Egret did feature with a single bird in Lochranza from 20
th
to 24
th
. In addition, there was the first ever report on Arran of a dispersing Reed Warbler.
This record is awaiting ratification by the rarities committee and should feature in a future "Banner" bird note.
Among the one hundred plus species reported in August there were a number of other noteworthy ones including: forty Manx Shearwater off Pirnmill on 2 August, three hundred Gannet off Clauchlands Point on 8 August, fourteen Black-throated Diver in Machrie Bay on 11 August, three Red-throated Diver off Pirnmill also on 11 August, eighty Jackdaw on Shiskine Golf Course, three hundred and fifty Woodpigeon at Cordon on 28
th
and a White-tailed Eagle off the west coast on 30th. Last but by no means least in a month of exceptional records, there was a report of a Sooty Shearwater off Arran.
This record is also awaiting ratification by the rarities committee.
Sooty Shearwater breed in the southern hemisphere in, for example New Zealand.
It should feature in a future "Banner" bird note.
September sees the start of the peak migration season when many birds are on the move.
It is the time to expect the unexpected.
I look forward to hearing from you.