Arran Bird Report 2017
Reports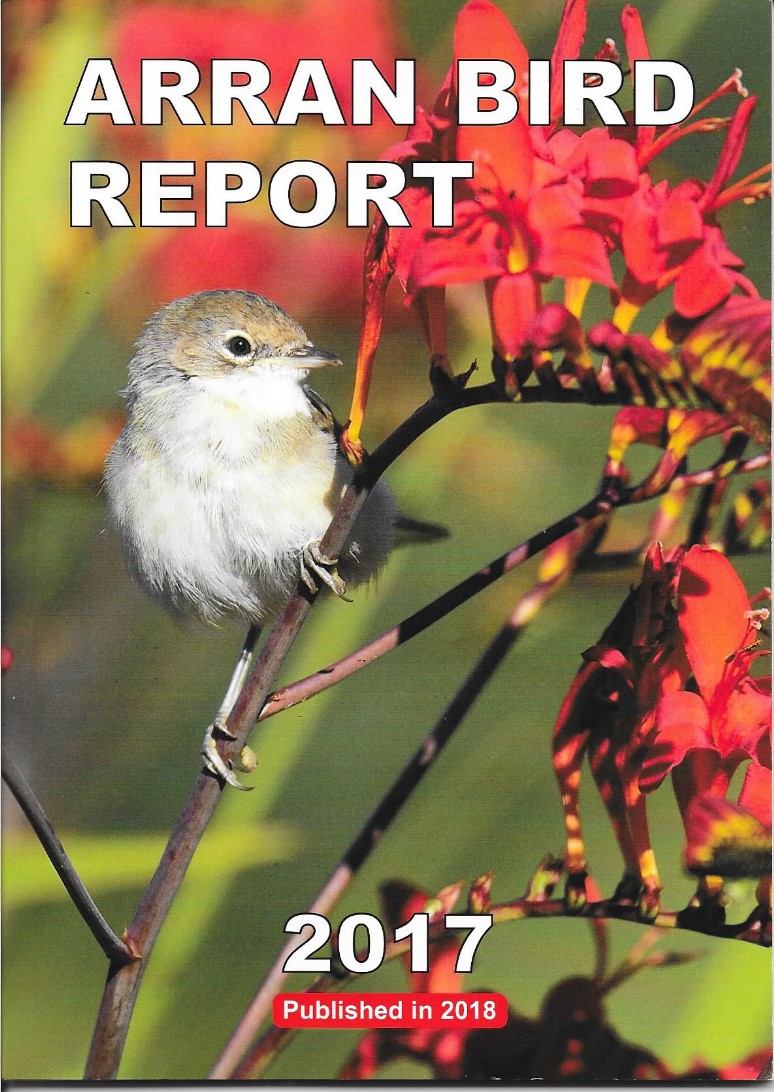 With a great team effort, the Arran Natural History Society has got the annual bird report in outlets throughout the island for the Easter weekend. With a stunning photograph of a Whitethroat by Brian Couper on the front cover, it is yet another eye-catching annual report. The Arran Bird Report 2017 is a "must" for anyone interested in the birds of Arran. It includes information on all species seen on Arran, a month by month summary of what was around last year, the impact of weather on birds, information on ringed birds, reports on some of Arran's bird projects plus some wonderful photographs. The uniqueness of Arran is reflected throughout the report, including the number of UK protected birds that share our island with us, as well as the differences between here and the adjacent mainland.
Over three hundred contributors sent in over twenty-one thousand records on one hundred and fifty-eight species, one of which had only been recorded for the second time on Arran, namely Little Egret. This is the twelfth annual report that I have compiled. The first one was compiled by Maggie H. Dunn in 1980. There have been many changes over the years. For example the first report was five pages long, cost 25p and had contributions from forty-five people who recorded one hundred and forty-one species, including King Eider and Roseate Tern neither of which appear in the latest annual report. There has been a bird report every year since then. The complete collection of annual reports is available for access from the archivists at the Arran Heritage Museum.
Who knows what changes to the annual report lie ahead in this digital age. Bird guides are being published with QR codes for each bird and by using a QR app on your smart phone or tablet you can hold your device over the code and get additional text, photographs as well as bird songs and calls. Some of the earlier Arran bird reports are already available as an electronic download from the
website
. At present there seems to be a demand for the printed form of the annual report, but I wonder for how much longer.
This year make sure you get your copy. Only a limited number have been produced.
This latest version of the annual bird report is now available from shops and other outlets throughout the island for the bargain price of £5.00 or through the Arran Natural History Society by contacting Lindsey & Robert Marr of Lamlash
arrannaturalhistorysociety@gmail.com