April 2021
Bird Sightings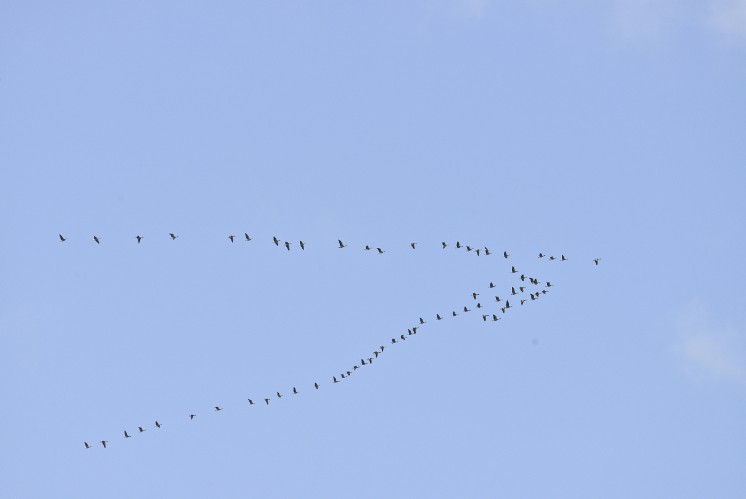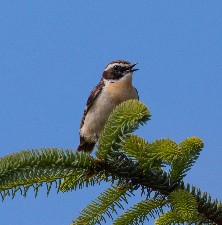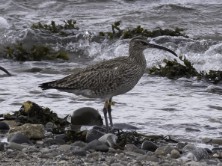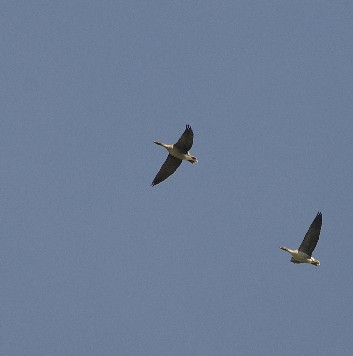 April is the month when spring migration gets underway, with arrivals and departures of birds, all seeking their best breeding territories. This April was very dry with no measurable rain on more than twenty days.
With a predominance of northerly winds April was colder than March and the mean temperature was more than two degrees lower than last April. . The impact on migrating birds of the weather here and throughout their route is difficult to know, but even by the end of the month the bulk of the migrants had still to arrive.
By the end of March, the first Chiffchaff, White Wagtail, Wheatear and Sand Martin had been reported.
Here are April "firsts" with the 2020 arrival date in brackets for comparison:
Willow Warbler
2
nd
(
5
th
), Manx Shearwater
2
nd
(
28
th
March), Sandwich Tern
2
nd
(6
th
),
Common Sandpiper
2
nd
(
10
th
), Swallow
2
nd
(
5
th
),
House Martin 5
th
(
4
th
), Cuckoo
14
th
(
14
th
), Grasshopper Warbler
19
th
(
19
th
), Whinchat
21
st
(
22
nd
), Whitethroat
22
nd
(
16
th
), Sedge Warbler 23
rd
(
18
th
) and Tree Pipit
27
th
(
18
th
).
In April some of our wintering birds were still around, including seven Teal at Kilpatrick Point on 2
nd
, one hundred and thirty-five Greylag Geese in the Shiskine Valley
on 3
rd
, four Wigeon at Cosyden also
on 3
rd
, twenty-five Fieldfare at Sliddery
also on 3
rd
, one Merlin at Machrie Golf course on
15
th
, three Rook at Sliddery on
23
rd
and one Whooper Swan on Sliddery Shore on
27
th
. The last report of Pink-footed Geese was one hundred and twenty flying north over Cleats Shore on migration on
15
th
.
April is an ideal time for watching migration.
These are a few examples: twenty Skylark on Cleats Shore on 2
nd
, fourteen Twite also on Cleats Shore on
2
nd
, five Great Northern Diver off Pladda on
3
rd
, one Bar-tailed Godwit on Sliddery Shore also on
3
rd
, forty-five Golden Plover at Machriewaterfoot on
15
th
, twenty Turnstone also
at Machriewaterfoot on
15
th
, fifty Linnet at Sliddery on
23
rd
, a Dunlin on Silver Sands on
24
th
and thirty-one Whimbrel
at Porta Buidhe on
27
th
.
One of these Whimbrel had been ringed on a southern Arran shore in 2017. It was reported yet again almost on the same shore, for the fourth year in a row, having again spent the winter in Africa!
In addition, the Little Egret first reported in October and the Nuthatch also first reported in October both seem to have left the island after over-wintering. The last Little Egret report was from Clauchlands on
16
th
and the Nuthatch seems to have left Pirnmill on
1
st
and spent a few days in Dippin before leaving there on
6
th
.
Migration was also in evidence from the widespread reports received of Goldfinch and Siskin moving through people's gardens throughout the month.
Larger garden numbers reported included forty Goldfinch at Shannochie on
4
th
and eleven Siskin at Strathwillan on
11
th
. In addition, there were widespread reports of Lesser Redpoll at garden feeders including four at Lagg on
27
th
.
Tens of thousands of birds seem to be moving through the island at this time of year.
In April there were over one hundred and ten species recorded on Arran.
Here is a further small selection from this list: ten Shelduck at Port na Feannaiche on
3
rd
, an Osprey in the Shiskine Valley on
15
th
, three Puffin in Brodick Bay on
23
rd
, a Jay at Port na Lochan on
24
th
(last Arran record 2012), a Water Rail at Feorline on
26
th
and twelve Gannet in Machrie Bay on
27
th
. The highlight in April was the Rough-legged Buzzard seen by the Ross Road near Glenree on
25
th
, the first Arran record since 1974. It featured in a recent "Banner" Bird Note.
From a birding point of view, May should be an equally interesting month with the arrival of more summer visitors including Garden Warbler, Lesser Whitethroat, Wood Warbler, Swift, Arctic Tern and hopefully, even Corncrake and Nightjar.
Finally, spring is a great time to be birding, as most birds are getting on with the business of breeding.
The business of breeding involves attracting a mate by song, courtship display and ritual, defining a territory, nest building, and generally establishing relationships.
Please take a moment to report any signs of breeding birds to me. Already there have been reports of Blue Tits nest building, Robins feeding young, Blackbirds carrying food and Mallard with young. Interestingly there were reports from two locations of Yellowhammer singing. I wonder if the birds are just passing through or if they will stay to breed? If they do it will be the first time since 1999.
Please remember that under the Nature Conservation (Scotland) Act 2004 it is an offence to intentionally or recklessly damage or destroy the nest of any wild bird while it is being built or used.
Take particular care on our shores and beaches and please keep your dogs on a lead at this time.