October 2021
Bird Sightings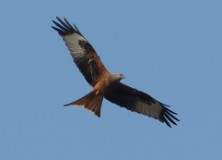 October was much wetter than September with seventy percent more rain. It was milder and wetter than last October. This October was the wettest month of the year so far. October is arguably the busiest birding month, as summer breeders depart, migrants pass through, winter visitors arrive and there is always a strong chance of something unusual. This October did not disappoint.
A particular highlight was
a report of six Red Kites in the Shiskine valley on 5
th
in the afternoon. There had been a report of one in Lochranza that morning. In the afternoon a helicopter had been in the Shiskine valley, which caused some disturbance. These birds may have been feeding on carrion. The experienced observers had recorded some of the spectacle on their mobile phone. This is the largest group recorded on Arran. In 2001 birds were released in Dumfries and Galloway for the first time and that year one was reported on Arran, the first record since the mid-1800s. In the following years there have been small numbers of records of single birds. In 2018 there were twelve records and one of these was of two birds together.
Other highlights included: a first winter Mediterranean Gull by Fisherman's Walk on 4
th
and 6
th
, first record since October 2018; a flight of twenty-six Barnacle Geese passing Kingscross on 15
th
, again first record since October 2018; and for the fifth year in a row Little Egret, a colonising species, was reported, with one at Cordon on 29
th
.
Winter visitors included: two Brent Geese and forty-one Rook on Cleats Shore on 5
th
, three hundred Greylag Geese also on Cleats Shore on 6
th
, fourteen Teal at Carlo on 7
th
, one Brambling and one Yellowhammer in Sliddery on 15
th
, fifty Whooper Swan flying over Lamlash Bay on 17
th
, forty Wigeon at Kilpatrick Point on 24
th
, one Snow Bunting in Glenkiln on 21
st
and two Snow Bunting on Goatfell summit on 30
th
. While Redwing numbers built up during the month with over eight hundred in Sliddery on 30
th
, Fieldfare, in contrast ,had only one report, eight on Machrie Moor on 21
st
.
Migration was in full flow in October as birds were moving out of colder northern Europe to milder climes.
These included: a Sanderling in Blackwaterfoot on 1
st
, three hundred and eighty Kittiwake in Loch Ranza on 3
rd
, two Wheatear on Sliddery Shore also on 3
rd
, fifty Linnet on Cleats Shore on 5
th
, fifty Goldfinch on Lakin Farm also on 5
th
, three hundred Skylark on Cleats Shore on 6
th
, seventy Golden Plover in Machrie Bay on 10
th
, twenty Turnstone at Dougarie also on 10
th
, sixty Lesser Redpoll at Catacol on 15
th
, sixty Ringed Plover by Fisherman's Walk on 23
rd
, a Merlin at Blackwaterfoot on 24
th
, eleven Redshank at Sandbraes on 29
th
and three hundred and fifty Starling at Sliddery also on 29
th
.
There were some "last sightings" of summer visitors also moving south including:
a Chiffchaff in Sliddery on 2
nd
, nine Lesser Black-backed Gull by Fisherman's Walk on 4
th
, seven House Martin in Kildonan on 13
th
, sixteen Gannet off Silver Sands on 23
rd
and a Swallow in Sliddery on 25
th
.
Other interesting records from a month with over one hundred species reported included:
a Moorhen at Port na Lochan on 3
rd
, a White-tailed Eagle at Imachar on 11
th
, two Little Grebe in Loch Ranza on 18
th
, two Dipper at Slidderywaterfoot on 23
rd
, ten Long-tailed Tit in Margnaheglish on 27
th
, seven Black-throated Diver and ten Great Northern Diver off Drumadoon Point on 28
th
, three Goosander at Imachar on 29
th
and over one hundred Eider in Lamlash Bay on 31
st
. This was more than the island total during the Eider survey in September!
Finally, my thanks to all the "volunteers" who took part in the Eider survey in late September. Total number of birds recorded round Arran was forty-five. There was total coverage of the Arran coastline. Last year the total was seventy-five. In 2019 it was forty-seven. In 2000, it was considerably more, at over six hundred.
The data on the Eider survey contributes to the ongoing research of Chris Waltho who has been monitoring Eider in the Clyde Estuary for almost thirty years. The population trend is down.
For the latest report from Chris, click here: