November 2020
Bird Sightings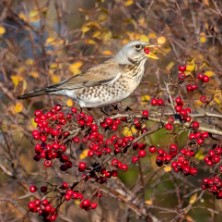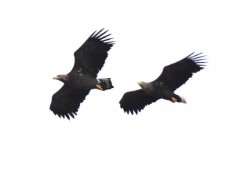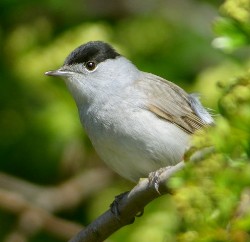 November in terms of weather was almost a re-run of October. November was also mild and wet. In comparison to last November it was milder and wetter. The mean temperature was three degrees higher. The rainfall this November was more than double that of last November.
October highlights continued to delight in November with reports of Little Egret between 7th and 24th mainly from the south end of Lamlash Bay but also in the Rodden in the Shiskine Valley. All records were of a single bird. In addition, the Nuthatch reported in Pirnmill in October continued to visit a range of gardens throughout November. The Nuthatch will feature in a future Banner Bird Note
Not surprisingly in November, winter visitors were to the fore. Throughout the month there were widespread reports of foraging Fieldfare and Redwing, sometimes in mixed flocks. The largest groups were one hundred Fieldfare at Lochranza on 10th and sixty Redwing in Sliddery on 21st. Last November there were fourteen reports of Snow Bunting but none so far this winter. A single Brambling was in Whiting Bay on 2nd and six Yellowhammer in Sliddery on 9th.
Other records of wintering birds included: sixteen Turnstone in Whiting Bay on 2nd, thirty-six Rook in Sliddery on 7th, seven Lapwing Kilpatrick also on 7th, a Merlin at Sliddery on 9th, fifty-two Golden Plover at Machriewaterfoot on 12th, three Purple Sandpipers at Silver Sands on 25th and a Jack Snipe on Sliddery Shore on 28th.
Reports of wintering wildfowl included: twenty-seven Whooper Swan at Clachaig Farm on 2nd, seventy Teal and fifty-two Wigeon at Kilpatrick Point on 17th and two hundred and thirty-nine Greylag Geese and seventy Pink-footed Geese in the Shiskine Valley on 28th.
Gardens are safe refuges during the winter months with many people providing regular food and water for their feathered friends. These are a small selection from the many reports from gardens round the island in November: six Goldcrest in Kildonan on 5th, twelve Coal Tit in Whiting Bay on 18th, five Great Tit in Brodick on 22nd, five Greenfinch in Kilpatrick on 27th, twenty-two Long-tailed Tit in Shiskine on 28th and perhaps not so welcome, a Magpie in Lamlash on 1st. In addition, there were reports of wintering Blackcap in gardens in Brodick, Pirnmill and Sliddery often attracted by cut up apple.
Finally, here is a further selection of highlights from what has been another exceptional month for bird-watching on Arran. After the dearth of Eider round Arran in September for the annual Clyde Eider census, in November there were widespread reports including two hundred and fifty in Lamlash Bay on 16th, one hundred off Cosyden on 26th and one hundred and fifty in Whiting Bay on 28th. At Kildonan there was a returning Shelduck on 9th and a lingering Gannet on 13th. All three divers were recorded throughout the month including two Red-throated Diver in Whiting Bay on 2nd, four Great Northern Diver in Machrie Bay on 10th and twenty-five Black-throated Diver off Cosyden on 20th. Among the almost one hundred species recorded in November there was a Long-eared Owl on Corriecravie Moor on 7th and a Kingfisher by the Fisherman's Walk on 10th. Last but by no means least was the appearance of two White-tailed Eagles. First seen in Machrie Bay on 22nd, they were later that day photographed north of Dougarie and for the rest of the month there were records of these majestic birds from that stetch of coast. Whether or not this is a pair looking to establish a territory remains to be seen.