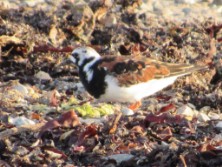 In comparison to June, July was much drier and warmer. The mean temperature was three degrees higher. In comparison to July last year, July this year was also drier and warmer. There was only three days when there was more than 2mm of rain. The light winds of May and June this year continued into July giving a prolonged settled spell.
This had a positive impact on the breeding success of most our visiting summer birds, particularly those that relied on airborne insects to feed young. Looking at the proportion of adult to young birds from information gathered by licensed bird ringers, Willow Warbler, Chiffchaff, Whitethroat, Sedge Warbler and Blackcap, all had a good season. Similarly, Sand Martin, House Martin and Swallow had a good season although this was not uniform across the island. As reported in the June notes, garden birds seemed generally to thrive and seed eating birds like Lesser Redpoll, Siskin and Goldfinch all had successful breeding seasons.
Other signs of a successful breeding season included: Grey Wagtail family on Eas Mhor on 5
th
, three large Shelduck young by Cosyden on 6
th
, female Mallard with nine young at Cordon also on 6
th
, young Great Spotted Woodpecker in Lochranza on 8
th
, Red Grouse family Carn Mhor on 9
th
, Golden Plover family Beinn Tarsuinn on 10
th
, four young Eider on Sliddery Shore on 17
th
, five fledged Common Gull young on Brodick Castle on 19
th
, three young Oystercatcher at Corrie on 22
nd
, Spotted Flycatcher family at Fairy Dell also on 22
nd
, Common Sandpiper family at Porta Buidhe on 24
th
and female Red-breasted Merganser with nine young at Cladach on 28
th
.
On the downside, with the removal of some Covid restrictions, there was increased human activity on shores, with many ignoring notices of breeding birds and allowing their dogs off leads to cause disturbance to breeding shore birds. In addition, there was concern expressed that increased human activity on the hills near lochans was adversely affecting breeding Red-throated Divers and diminishing records of breeding Curlew and Fulmar is a continuing cause for concern.
July marks the end of the breeding season for some birds.
It can be an interesting time looking for breeding species dispersing from their breeding grounds, many still in their breeding plumage. Reports included; two Black-headed Gulls with two young by Fisherman's Walk on 21
st
,
four Turnstone at Blackwaterfoot on 27
th
, one Dunlin at Blackwaterfoot on
31st,
an adult Sandwich Tern feeding young in Lamlash Bay also on 31
st
and as well as reports of our
Red-throated Diver round the coast there were also reports of two more northerly breeding divers, two Great Northern Diver off Cosyden on 6
th
and two Black-throated Diver in Brodick Bay on 21
st
.
In addition, after breeding many species begin to flock together. Reports included; fourteen Black Guillemot in Catacol Bay on
6th,
sixty House Sparrow in Kildonan on 13
th
, one hundred Shag off Pladda on 19
th
, sixteen Curlew on Brodick shore on 21
st
, one hundred and forty Jackdaw in Lochranza on 23
rd
, two hundred Starling in Sliddery on 27
th
and twenty Ringed Plover with seven Redshank in Blackwaterfoot on 31
st
.
Over a hundred species were reported in July. Other highlights included; four Manx Shearwater in Brodick Bay on 2
nd
, three Common Scoter off Fisherman's Walk from 3
rd
to 8
th
, a Swift over Largybeg on 11
th
, a female Goosander in Catacol Bay on 15
th
, an Osprey off Clauchlands on 18
th
, eleven Gannet in Whiting Bay also on 18
th
, three Common Crossbill in Newton on 22
nd
and continuing reports of two over-summering Whooper Swan one in Lamlash Bay and the other near Torrylinnwater Foot.
Finally, there was a record of a Yellowhammer on Holy Isle on 3 July. Summer records of this once widespread breeding species are now most unusual on Arran. For more info click here..